Expatriates: those who left their homeland
Maternal: loving and affectionate
In wordplay, infinite feelings also play: insecurities, achievements, pride, challenges, fears, escalations, plenitudes, certainties, dreams, determinations. Above all, love for children and trust in the chosen land.
Living far from where you were born and raised is difficult, even for those who longed for and built a long-term Canadian life plan. But whoever wants to come and who already lives this reality finds comfort, support, and identification in the words and welcome of an online maternal network. If you have a simple question (How to dress my child in the Canadian winter? How does the public library work?) Or need shelter (What to do with this pain for raising them away from the family? How to keep our culture and language alive?) there is a network prepared to support you.
Between blogs and digital media, we talked to three expatriate and active mothers in the information, integration, and reception of other Brazilian and Portuguese mothers in Canada.
Livi Souza, 41, is the author of the blog Baianos No Polo Norte (Bahians in the North Pole). She has been in Toronto for twenty years and is the mother of two girls, one 11 and the other 9. Educational consultant and graphic designer, she found on the blog a way to share with her family in Brazil a little bit of routine after the birth of her first daughter. Since then, it has become referral information on the most diverse subjects related to the city and the country. In addition to personal experiences, the blog details the public health and education systems address the local reality in relevant topics, provides tips on festivals, various cultural attractions, and fascinating historical details.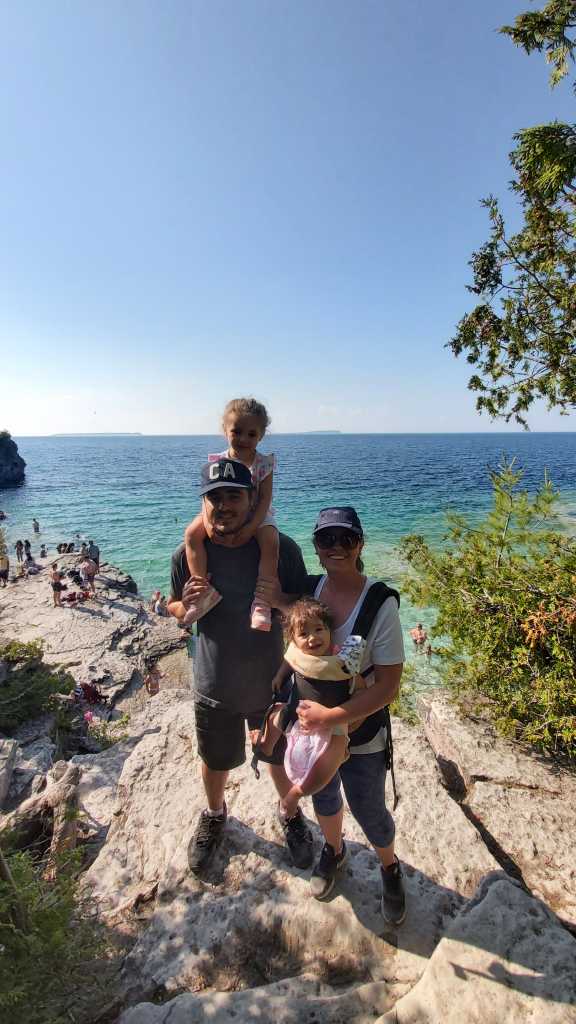 Danielle Vidal, 35, is an expatriate family mentor and founder of Conscious Migration. Creator of the blog Vidal Norte, Dani talks about her experience living in New Market after a season in Toronto, where she faced a pregnancy during college and shortly after her arrival in the country. Mother of two girls, one 3 years old and another 10 months old, she presents a little bit of the Canadian routine and the region where she lives and brings approaches on topics relevant to those who live in close situations.
Mafalda Oliveira is a Doula, and a Yoga and Thai massage instructor, mother of a 2-year-old girl and an 11-month-old boy. She arrived in Canada to study and ended up seeing more favorable economic opportunities than in her native Portugal. With other Portuguese and Brazilian women, she is ahead as a founding partner of Mama Doula, a company that offers information, services, and workshops on doulage, childbirth, newborn care. The team also translates medical consultations and other needs for families not fluent in English.
Commonalities: the difficulties of a minimal support network; not having space for solitude, difficulty maintaining social and couple life, invisible overwork.
Mainly, maternal entrepreneurship arises from the need to remain healthy and economically active. An escape to the infinite tiredness of motherhood in something that, for (yet) more work than it brings, is also self-love and inspiration.
A routine with a high price, but one that pays for anyone who sees the importance and difference of raising a child in a country like Canada.
Here, they will have contact with different cultures at a high level of tolerance and respect. They will be educated in public schools and will attend the same hospitals regardless of their parents' profession. They will have safe transportation to and from, with freedom to walk on the street without fear of assaults and violence. Social equality is shown not only in political projects, but in the routine of those who live here.   
SERVICE: Blogs that present female perspectives on the lives of expatriates who live in different cities in Canada. (Blogs are in Portuguese)
Adriane (Ottawa, ON) | Like a New Home
Alessandra (Bathurst, NB | Canadiando
Alessandra (Toronto, ON) | Alicia and Other Chats
Amanda (Winnipeg, MB) | Viva Manitoba
Beatriz (Vancouver, BC) | Biba Cria
Carol (Mississauga, ON) | Minha Neve e Cia
Carol (Vancouver, BC) | Speak crazy
Dani (Toronto, ON) | Vidal Norte
Fernanda (Toronto, ON) | Fernanda Cardia
Gaby (Toronto, ON) | Gaby in Canada
Livi (Toronto, ON) | Bahians at the North Pole
Mafalda (Toronto, ON) | Mama Doula
Mari (Calgary, AB) | Well with life
Renata (Burnaby, BC) | Restless Suitcase
Vanessa (Calgary, AB) | Departed Canada BR
---
Priscilla Ruzzante is a journalist, mother, and lives in Toronto.