By Rosemary Baptista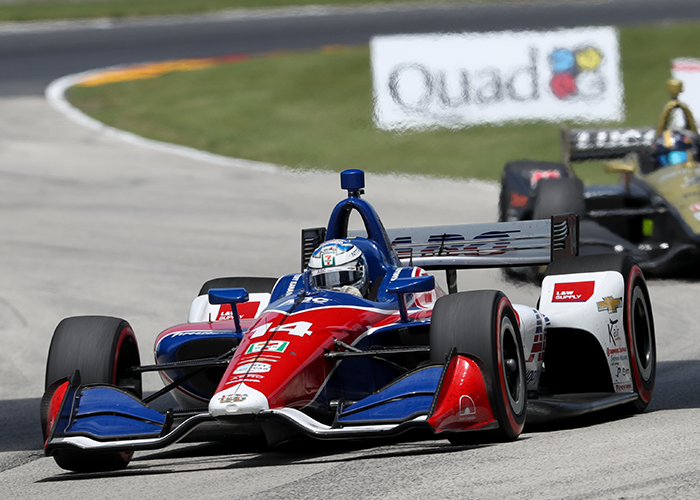 Rosemary conducted an interview with Tony on Thursday, July 11th, a few days before the Honda Toronto Indy 2019, in Toronto for Wave.
WAVE: What are your aspirations for the Honda Toronto Indy 2019? Will you be using the No. 14 ABC Supply Dallara-Chevrolet?
KANAAN: Yes, I will be driving the No. 14 car. This has been a difficult year, but I'm hoping we have a good race this year as this is a course that I like very much.
WAVE: Your personal and professional life story is inspiring and motivating. How would you describe the experience of transitioning from riches to rag and then becoming a professional racing driver with a net worth of $20 million dollars? Where did you draw your strength and resilience from?
KANAAN: The truth is that I lost my father in my childhood. I knew it wasn't going to be easy. We, Brazilians tend to have this natural built-in tenacity and fighter spirit. Brazilians are natural warriors. I always believed this would work. I worked and lived inside a garage. Thus, I was able to reach my goals through a lot of hard work and resilience.
WAVE: You are Brazilian born of Lebanese descent, who lived in Italy and currently living in the USA. Which culture or ethnicity do you most identify with?
KANAAN: I never lost my Brazilian spirit; I still love Brazil very much. I have a lot of family in Brazil. Although I have lived in the USA for 22 years and enjoy the way the country is governed, my heart will always be Brazilian.
WAVE: Do you preserve your Brazilian/Lebanese culture, customs, and practices at home?
KANAAN: Although my parents were Lebanese, I have never been to Lebanon. In terms of culture, I'm one hundred percent Brazilian. It is difficult to make a comparison because I was not exposed to the Lebanese culture, except the food which we still eat.
WAVE: What are the things you miss most from your Brazilian and Lebanese culture?
KANAAN: To tell you the truth, my friends and Brazilian food.
WAVE: What are the hardest parts of being a race car driver?
KANAAN: Time. Training takes my complete time. I have a wife and four children, and our quality time together is affected. Unfortunately, everything in life has its price. I must maintain my focus throughout the entire year and not get distracted.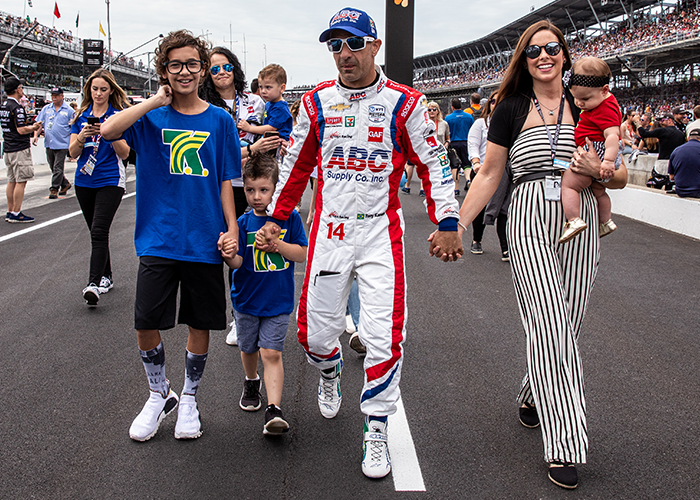 WAVE: How would you compare the ironman competition to car racing?
KANAAN: Although these are two different sports, mentally they are very similar, demanding a strong mind and lots of persistence and concentration.
WAVE: What makes a winning race car driver?
KANAAN: To be open to learn and dedicate one hundred percent of your time and your life, so that you're successful.
WAVE: How do you deal with sneezing or urge to go to the bathroom during a race?
KANAAN: The adrenaline rush during racing helps with this. I have heard that when the urge hits some drivers during a race, they relieve themselves while driving and change their clothes afterward.
WAVE: What is the car you have had the most fun while driving? Race or streetcar?
KANAAN: Race car. When I'm home I use a form of transportation that promotes health, such as walking and running.
WAVE: Which is more important in racing – a strong upper body, lower body, or core?
KANAAN: You need a strong upper body to control the turbulence and high speed 400 km per hour. It is very difficult.
WAVE: Do you think racing games or video game simulators can give an advantage to drivers before entering a race?
KANAAN: They teach you to learn the track, but they are not sophisticated enough to transfer a test from the computer to the race track, to drive a race car and go fast.
WAVE: How has technology changed car race driving?
KANAAN: The cars are very sophisticated; they need computers more than the actual race car driver. We are a laboratory that transfers what we learn on the track to the street driving.
WAVE: Cars consume a lot of energy before they ever make it to the open road. … Most of an automobiles' environmental impact, perhaps 80 to 90 percent will be due to fuel consumption and emissions of air pollution and greenhouse gases that climate scientists say are driving global warming.
KANAAN: Although I support our environment, this is a complex topic. To answer this accurately and effectively one requires a certain level of scientific expertise, therefore I will not be able to make further comments.
WAVE: What is your advice for someone that is wanting to pursue a career as a car race driver but is facing financial difficulty?
KANAAN: Do as I have, work hard, knock on doors for supporters and never give up on your dream!
WAVE: What is your opinion on the entirely electric autonomous vehicles?
KANAAN: It is valuable. It will help reduce the emissions of air pollution. I don't believe we will only have electric cars, but it is part of our evolution.
WAVE: What was your second career option had you not pursued the career as a Champion and Professional Race Car Driver?
KANAAN: Police Officer
WAVE: What Message, words of wisdom would you like to leave for our readers?
KANAAN: Always follow your dreams! To all my fans, family and friends: Thank you for your support and friendship.
"This interview left me feeling inspired and motivated. Tony seems to live up to the Chinese Philosopher, Confucius famous quote, "Choose a job you love, and you will never have to work a day in your life." His passion, commitment, resilience, and warrior spirit are admirable and contagious." Rosemary Baptista